BEAUTIFUL CREATURES (I)
By Sion Smith
HENRY JUSTICE FORD
My love affair with monsters began ridiculously young. Left untamed and to my own devices, I became entranced by monster movies and enchanted by a thousand books whose sole subject matter was the battle between a modest but brave human being intent on 'doing the right thing' and mystical creatures of the night who didn't always play by the rules. Sometimes these creatures were of the small woodland variety (which I could relate to as a small Welsh boy who lived a stones throw away from a mountain under which two dragons were buried) but this other world soon expanded to include desert landscapes, fantastical cities from Vary Far Away and even places that didn't exist at all.
If there was a creature that shouldn't exist involved in the story, you could count me in.
Not a whole lot has changed since then. Over the course of Beautiful Creatures, I'm going to pay tribute to some of the artists I've discovered and grown to love even more as an adult. I can practically guarantee that most - unless of course you too are an aficionado of monsters and those who bring them to life - have never heard of, whether they be highly regarded in their own field or not.
My first port of call is Henry Justice Ford. Like I said, I suspect not too many are familiar with the name but his influence can certainly be seen in the work of Ernest Shepherd and Arthur Rackham right up to the present day illustrations for the Spiderwick series from Tony DiTerlizzi and yet Ford himself comes from a pre-Raphaelite background. It's not such a huge leap for the imagination if you follow the timeline but if you're going to wander around the internet looking for references that go back and forth in time, all that's going to happen is you'll miss the magic. Sometimes, you need to abandon time and let your eyes simply hook up with your brain to create the chemistry that's needed to create that magic
Born in London in 1860 to a family with six other sons (which sounds like damn hard work to me) Ford went on to gain himself a degree in classics before moving on to London's Slade School for Fine Arts. By the time he was in his early thirties, he was exhibiting paintings at the Royal Academy of Art but there was little glory (or anything else) in this for him and it was only when he began to collaborate with Andrew Lang on Lang's perfectly wonderful 'Colour Fairy Books' (as they have to come to collectively be known) that his name began to stick.
Between them, they created twelve children's books of fairy tales, the first being The Blue Fairy Book (published in 1889) and the last, The Lilac Fairy Book (1910) - all of which are easily found online (though possibly not in a monster-sized hardback collected edition that could lay waste to giants all by itself) and contain something like 100 illustrations in each book. (If you happen to be one of those who knows this stuff inside out and wishes to point out that the first two of these books he illustrated alongside another artist… your work is now done). Art aside, Andrew Lang really pulled all the stops out on this collection featuring as it does stories from across the world in a true multi-cultural experience. Possibly the first of its kind.
Where Ford wins out in his work is by bringing together his pre-Raphaelite grounding and mixing it with nothing more than some simple fine ideas from his own imagination. These fairy books are unarguably his best known works but he also found time to illustrate The Arabian Nights Entertainments (1898) which for my money, allows him to take off the gloves and really move into doing something special. If you were ever looking for a template for the Ray Harryhausen's body of work, Ford is a good place to begin. It's easy steps to begin to move from Ray Harryhausen to del Toro and Peter Jackson from there.
Which brings me to a pet hate that is worth a mention. Computer Generated Imagery - known to all as CGI. It's very, very boring. You have been sold a damp firework on this front. It has no part in the creation of monsters and I can't recall a CGI creature that has ever been of value to the world. Ford would roll in his grave. I can hear him from here. It's too realistic for its own good and leaves nothing - absolutely nothing - to the imagination. I shall never mention this again - but if you have children who love monsters (or indeed are an adult I guess), this is important. The world is geared and primed for something new, but I digress…
To put his work in a nutshell, take a look at Ford's depiction of Grendell's mother and Beowulf - there is nothing more that needs to be discussed about the piece. It may take you a minute or two to read that part of the story, but every word of it is captured in that one image, and so it continues with everything Ford touched.
Henry Justice Ford died in 1941, but if I were to suggest that he was one of the forerunners of all we know in modern 'monster works', I don't think I would be a million miles away from the truth.
I am no expert and would never profess to be. I'm just a man in love with the impossible.
Maybe that's all you ever need to create things of wonder.
Click through this gallery to see more incredible work from Henry Justice Ford.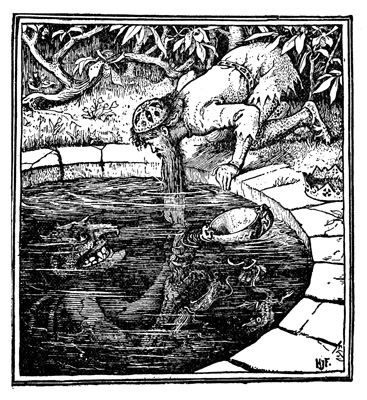 SIÔN SMITH (PRONOUNCED SEAN AS IN CONNERY) IS A WRITER WHO DISLIKES WRITING IN THE THIRD PERSON SO MUCH, I'M NOT GOING TO DO IT ANYMORE. I WRITE LONGHAND WITH A WATERMAN BECAUSE THE ALTERNATIVE IS JUST TYPING. I WAS ONCE DESCRIBED AS 'BYRONESQUE' WHICH MAY BE THE NICEST THING ANYBODY EVER SAID ABOUT ME.
I BEGAN GROWN UP LIFE PUTTING IN TEN YEARS AS A SINGER/SONGWRITER. I THEN WENT ON TO CREATE AND EDIT BURN MAGAZINE AND ZERO MAGAZINE (A COUPLE OF ROCK MUSIC MAGAZINES) AND RIGHT NOW, AM THE EDITOR OF SKIN DEEP TATTOO MAGAZINE… WHICH IS HOW I COME TO BE PLAYING IN MR HERMAN'S SANDPIT.
I HAVE A THING FOR BOOKS, OLD MONSTER MOVIES AND THE RAIN. I LIKE SAMURAI WAYS, ART, AIRPORTS, COFFEE AND SAVING BEARS. I OWN ONLY TWELVE THINGS BECAUSE YOU SHOULD NEVER OWN SO MUCH THAT YOU CAN'T LEAVE TOWN WITH YOUR WORLD IN THE CAR.
IF YOU'RE OF A CURIOUS MIND, YOU CAN FIND ME HERE: WWW.SIONSMITH.CO.UK