Written by Sean Herman
Growing up in a small town in the swamps of Southern Alabama in the 1990's, pre internet age, it wasn't easy to get access to many of the things the urban metropolis's of the day had. We would watch videos of punk rock scenes in Washington DC, New York, and LA, amazed at the access they had. We would dream of shows, seeing every band we ever wanted, hoping that one day it could happen. The mecca in our area was the local record store, the vault our lifeline was held at.
Ian Mackaye (founder of Dischord Records, Minor Threat, and Fugazi) talks about his first record from the film "I Need That Record"
Before downloading music, we had to go to the record store, look through catalogues, and take chances on bands that we had never heard of. You needed a guide through these roads, one that had a knowledge of what you listened to, and what you hadn't heard yet, and how he could get it to you. Wade Wellborn, owner of Dr. Music, was our guide.
We spent hours, going through every record, every catalogue, searching for that new record that would change our lives. Wade's knowledge of music was greater than anything we knew, but his willingness to help us out was even greater. In high school I knew I wanted to be a writer, but didn't know how to go about it, so like many kids of the age, I started a zine. Wade would let me distribute them through Dr. Music, which eventually led to me meeting my good friend Jason Cline, and getting into the love of my life, tattooing. Without the access we had at that young age to punk rock, I know my life wouldn't be what it is today. I always feel like I am indebted to Wade, for helping so many of us get into a movement that changed our lives. Unfortunately the coming internet age didn't feel the same, with contributed to the downfall of so many small town record stores through out the country. This is documented very well in the film "I Need that Record".
The mecca that was the local record store in America was about to fall apart, but that's where Wade's story really starts to take off, and something inspirational really happened.
"After a great blow, or crisis, after the first shock and then after the nerves have stopped screaming and twitching, you settle down to the new condition of things and feel that all possibility of change has been used up. You adjust yourself, and are sure that the new equilibrium is for eternity. . . But if anything is certain it is that no story is ever over, for the story which we think is over is only a chapter in a story which will not be over, and it isn't the game that is over, it is just an inning, and that game has a lot more than nine innings. When the game stops it will be called on account of darkness. But it is a long day."
― Robert Penn Warren, All the King's Men
In response to the change that was happening in the record store industry, Wade starting building unique pieces of art, always insisting on doing what he loves. Utilizing his knowledge of speaker enclosure design, pro audio installation, car audio competition and home A/V design and installation, he began to build suitcase boomboxes. Since 2002, this project of his has continued to grow, adding new components such as bluetooth capabilities, rechargeable batteries, and more.
In building his Sonic Suitcases, Wade says,
"Because a suitcase has terrible acoustical properties, I go to great lengths to fit a solid, rigid enclosure inside each Sonic Suitcase Boombox. I tune and port each enclosure for efficiency and to extend the bass output. If you think that screwing a speaker into a suitcase is building a speaker system; you're wrong. I don't pull drivers and crossovers from cheap home audio speakers; I hand select new drivers, custom design the crossover components and solder each connection. While copycat suitcase boomboxes are adding more bells and whistles, we stay true to the sound. You can hear the difference. The science of sound really matters."
In a short amount of time, Wade began converting antique radios, record players, and just about anything else into quality speaker systems. We have an upright antique radio at our house that he rebuilt, which I picked up from his over 7 years ago, and the sound is still just as amazing. We also picked up two small antiques radios he built for The Bell Rose, and a Sonic Suitcase at the Serpents of Bienville gallery. I am constantly amazed and surprised at the speakers Wade is building, including one encased in an old elevator operating system. No matter what the case is, the sound is always the same, amazing. I am spoiled now and only want to listen to music through it.
Wade now builds and sells about 200 Sonic Suitcases a year, with new collaborations and pieces happening everyday. This is not where his story ends though. Something that no one could expect happened over the past couple of years, the record industry picked up, bringing new life to the local record store. In the past ten years, record sales have gone from $988,000 a year to almost $12 million in 2015. Events like record store day have helped bring back this beautiful industry, and it doesn't seem to be slowing. Wade recently moved to a larger location, in downtown Fairhope, and his only problem is now being too busy, which is not too bad of a problem to have.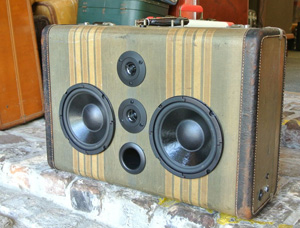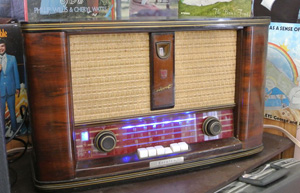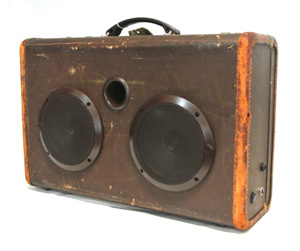 Click through this gallery to check out more pictures of the awesome creations from Wade and Sonic Suitcases.
Over the years that I have been fortunate enough to know Wade Wellborn I have learned many things, aside from being indebted to him for giving me to the tools to get into tattooing. I have learned the importance of remaining fluid, working with your environment to create new things, always maintaining control of your happiness. Also, never view life events (like a crashing industry) as the end of something, but just as the opportunity for a new chapter to do something new. Most importantly, love what you do, a simple idea that speaks volumes. The influence Wade has had on the Gulf Coast, musicians, artists, and more is immeasurable, all from the simplicity of staying true to one simple thing, do what you love, and never compromise on that.
For more information about Wade and his art, click here, and to learn more about his awesome record store, Dr. Music, click here.
Check out a great news video on Sonic Suitcases here.
Custom models are welcome and shipping is cheap and easy. Feel free to contact Wade at drmusic123@aol.com or call 251-990-3412.
Check him out on Facebook at facebook.com/thesonicsuitcase, Instagram at drmusic123, Twitter @drmusic123.
SEAN HERMAN
SEAN HERMAN IS A FATHER, TATTOOER, WRITER AND CREATOR. BORN MOVING, HE WAS INVOLVED IN ALL KIND OF MOVEMENTS FROM MISSIONARY WORK IN YOUTH, TO PUNK ROCK TO ANARCHISM, THESE ELEMENTS ARE WHAT SHAPED HIM TO BE WHO HE IS TODAY, ALL COMPLETELY DIFFERENT, AND ALL THE SAME. THE ONE THING THAT WAS ALWAYS A CONSTANT WAS POSITIVITY AND THE ART OF CREATION. LEARN MORE AT WWW.SEANHERMAN.COM