I have been meaning to write this update for the past month, but life has been creating other projects to work on, so I apologize for the tardiness. I am excited to share some of the new projects I have been working on, along with tattooing. Tattooing is still, and always will be, my first priority. I am so grateful for my clients, and for all of you who are reading this and are interested in my tattoos. Part of the projects I have been working on involves creating an environment for you, sharing with you my love for the beautiful craft of tattooing and my appreciation for your interest.
So here begins our updates for your reading pleasure.
Serpents of Bienville and Our New Artist Collective
I founded the Serpents of Bienville last year and since that time it has become a huge part of my life. I have had a lot of people ask questions about what it is, so I thought I would explain the project here, along with our exciting new growth.
We want to be a platform for the individuals that use the talents they have and want to create a positive change. In any and every form that we have the means to do so, we want to make change for the better, highlight the talents and achievements of our neighbors, and celebrate our community's progress.
From the Serpents of Bienville website, I explain the history and my thoughts on founding the project.
"I started The Serpents of Bienville project in January of 2015, but it is really something that I have been thinking about for a long time. Growing up on the Alabama Gulf Coast, I would hear little stories here or there revolving around long gone eras in this area. After moving away at 17, and coming back at 26, I began to really have an appreciation for the history and folklore that resides here. In May of 2014, we opened a new shop (The Bell Rose Tattoo) and were trying to decided on a name, which is never an easy task. This is where my research into the folklore of the area really started.
One of the things I found that fascinated me was the story of the founder of Mobile, Jean-Baptiste Le Moyne Sieur de Bienville. The story revolved around Bienville getting tattooed by local native tribes in order to gain their trust. I was amazed that this story was in my area and I never really knew about it. I became obsessed with the idea of tattooing being a sacred oath that Bienville took with this native tribe. I began to research deeper into the topic, and found out that this oath may have been more real than I ever could have thought, with both participants stories ending in the same dark way."
The most important part of our project is the next part of the story, the one I like to emphasize and that is the fact that the story doesn't have to end with Bienville's sacred oath (read more about that here) causing a cursed ending, and we can write the next chapter by rising up and making a positive change with our community. At this point in our adventure, Serpents of Bienville's focus is to unite our community of artists, writers, and creators. We want to bring attention to those creating amazing work and ideas, and introduce people to each other to start a united network of creators in our area. When we started moving in this direction I began to realize how little I truly knew about the amazing things going on in our area, and I now find myself amazed and excited about all the incredible people we have here in the Alabama Gulf Coast. From the Bay Area Food Bank, to Ant Farm Journal, we have so many heartfelt people who we want to bring to your attention.
The Serpents of Bienville is a community of artists, writers, filmmakers, and creators from southern Alabama. We travel the region to highlight the odd history, share the rich folklore, and support the inspiring community willing to imagine a better future for every individual.
We believe that stories hold tradition, help folks find common ground, and open up our imaginations to what could be, together.
Our move to downtown Mobile for a physical location of our store stem's from an idea between three friends over 7 years ago in a small artist studio. I have known Chris Cumbie and Duane Knight for over 25 years now. They both have had a huge positive impact on my life, being the kind of people that fill you up with inspiration with every conversation. At one point we all lived in the same small town, and spent many nights talking about how amazing it would be if we could create a space that we could all work in together, utilizing the work we all create, through different mediums, and try to work towards one positive goal. Chris was just getting into creating art for others to have, and Duane was in a similar boat. (You can actually listen to Duane talking about this time, and the steps he took to become a working artists, on our podcast here .) Fast forward years to now and Chris is one of the most sought after artists in the South East, working over 20 art festivals a year. Duane is also a full time artist, having had a variety of gallery shows, taught classes, and currently is working on a huge gallery show for debut next year. I have been so inspired watching my friends go after their dreams, achieve them, and grow even further. Now we are all working together in one place, creating the art we love, and working with the community we admire. Serpents of Bienville store is the second phase of a larger project that is in conjunction with Flux Gallery .
From Flux Gallery,
"A new creative tide is swelling off the coastline. Artists and friends Chris Cumbie and Duane Knight have joined forces to establish flux, working studio, a curated gallery for local and regional contemporary art, an incubator for creative entrepreneurship, an educational facility and a vital resource for art on the Gulf Coast. Located at 754 Government Street in downtown Mobile, this endeavor is aptly named. flux aspires to be a hub of continuous change and a purifying agent used to unify creative efforts.This exciting partnership is the result of a long friendship, shared vision and a commitment to the arts, artists, and our community. Cumbie and Knight have individually traveled their work throughout the country, but as Gulf Coast natives they have a shared vested interest in supporting the local creative community. flux, among other things will function as a curated venue for local and regional talent of all media. This will establish a much needed opportunity for hard working artist in the area, in addition to fostering a greater appreciation for art in Mobile. The gallery will mount seven shows a year, both solo exhibitions and group collaborations. An open proposal process will allow any artist in the area to apply and a diverse selection of guest curators will ensure that flux brings challenging, edgy and socially relevant exhibitions to our area."
Check out more of their work here: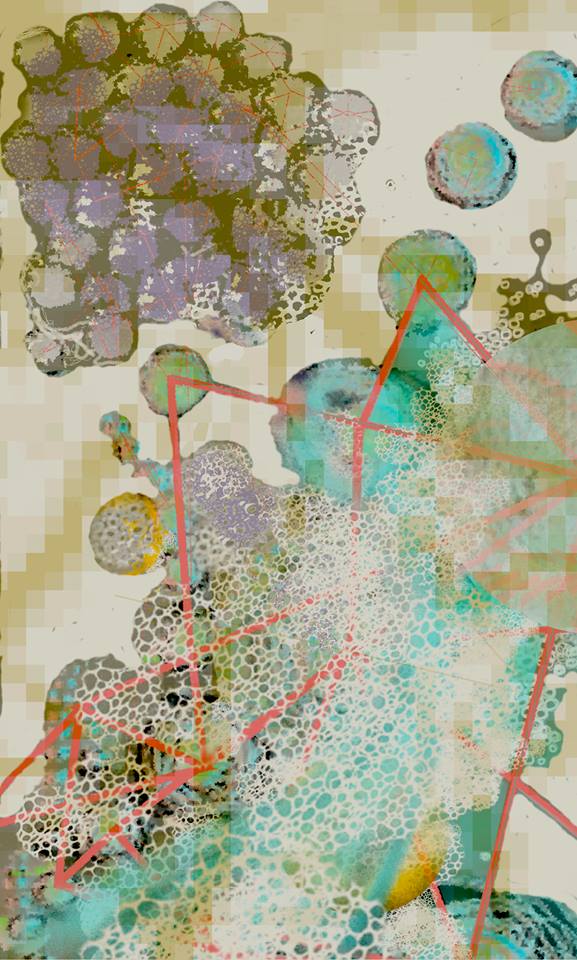 Flux
www.facebook.com/whatdaflux/about/
Within one building we now house three artists studios, Serpents of Bienville space, Flux Gallery, a podcast studio, screen printing and more as we grow. We have amazing artists working with us, helping run and be a face for the Serpents of Bienville space.
We carry amazing work of theirs like Ally Clements "Barely Bone Boutique", along with over 15 other local artists and creators. We strongly believe that the key to a growing community is supporting your friends, and the projects they work on. We are proud to be a retail space for our friends at Flux, always carrying the art of Chris Cumbie and Duane Knight.
We also carry our good friend Aaron Victory's Oddities from his "Victorious Finds", bringing you an amazing amount of animal oddities, antiques and more. We also have a children's section, carrying books from our good friends at Out of Step Books, along with our first publication, "Tommy the Tomato Eating Elephant". From jewelry, to soaps, to clothing, to prints and more, we are constantly growing, spot lighting the amazing creators in our area. Story telling is still a huge part of Serpents of Bienville, so we also carry used books on Southern Folklore, history, ghost stories, and more. We carry reprints of vintage maps and our very own "Alabama Oddities Map" that we created for you earlier this year. You can see that map here.
As we continue to grow we strive to bring you the art we love, along with showing you how amazing and inspiring the people of our community are. With love and positive intent we will be able to tell you about the people the their stories behind everything we have for you to take home. Come by and see for yourself, we are located at 754 Government Street, Mobile, AL 36601, or check out our site, www.serpentsofbienville.com. With the Halloween season ending, we will be starting our regular hours of Friday - Saturday 12pm-7pm and Sunday 12pm-4pm.
Our area falls to the same problem many areas do, our artists are encouraged to move out to other cities to succeed, leaving the area they love. We want to unite our working artists community showing that we can create that change here, and tell the world the stories we love.
Our primary goal is still the same, to work with our community, lifting up the amazing contributors we have, and bringing you the stories behind it all. Many of those stories were the inspiration for my "Transformative Tattoo" blog.
Skin Deep and our "Transformative Tattoo"
In August of 2016 I started adapting my "Transformative Tattoo" blogs into full length articles for the UK based magazine "Skin Deep". I explain about what my intentions are with our articles with Skin Deep in our introduction article that came out in August of this year,
"With "The Transformative Tattoo" I want to share stories on a more intimate and personal level of the tattoo experience, and the life after. We will be working with Openoureyes.org, an amazing organization, encouraging all people to reach out and share their stories. Since the dawn of time, tattooing has been a form of connection, a tie to a group or culture. Some find a home in these connections, like the energy of a crowd singing along the same words of acceptance to a punk rock band. Others have had a connection that may have changed their fate after receiving the tattoo, like our friend Bienville. Tattoos live with us, changing with us, and creating a new story with every year that passes. Tattooing opens people up, and gives a chance to present them something positive to hold onto, and to heal with. A person's reasons for getting tattooed vary, from marking accomplishments, to redefining the self image they have, to creating an idea of hope. In this series we are going to cover different stories of people's tattoo experience, my experience with them, and the change that this living amulet of a tattoo has created in their varied lives. To learn more about this and our project, make sure to visit www.serpentsofbienville.com and www.seanherman.com."
I am so grateful for our partnership with Skin Deep Magazine and their editor Sion Smith. Their faith in the articles we are presenting to them, and their support of them, means more to me than I could ever say. I am excited for the next upcoming articles with them through the year, and I can't wait for you to see them. Make sure to pick up the newest issue this month, and you can pick up back issues from their website www.skindeep.co.uk .
Serpents of Bienville Podcast
Lastly, within the past few months we saw the introduction of our Serpents of Bienville Podcast, which you can find here. We are working on different formats, from interviews, to short stories, to long form, soundtracked pieces, all to bring you something to remind you that you are not alone on this ride and we want to share our personal narrative with you. This project has been a labor of love with our good friend and contributor Wes Kennison. We have spent the past year writing pieces, interviewing people, with Wes creating original scores to bring you the most honest and interesting podcast we can. We laugh, we get choked up, and we get you a little scared, walking through the many facets of our unique Southern experience. You can find us on iTunes and here, make sure to subscribe and tell your friends.
We have many other projects currently in the creation process, and with our new space we have the ability to always be working with the amazing people in our community. In 2017 we will be bringing you a new book of ghost stories, written by my amazing wife Amanda Herman, with illustrations by myself. We have a preview print titled "Down to the Bone" with the story included that you can view here. Don't miss out on this collaboration before it's gone.
We will also be working on new clothing projects, a film documentary series, a magazine series and more. In the year since we began Serpents of Bienville many things have changed, and the project has quickly grown into a unique collective, with contributors stretching from California to London, and a now growing physical location, we can't wait to see what 2017 will bring.
Thank you for your support, and I can't wait to share more with you soon.
SEAN HERMAN
SEAN HERMAN IS A FATHER, TATTOOER, WRITER AND CREATOR. BORN MOVING, HE WAS INVOLVED IN ALL KIND OF MOVEMENTS FROM MISSIONARY WORK IN YOUTH, TO PUNK ROCK TO ANARCHISM, THESE ELEMENTS ARE WHAT SHAPED HIM TO BE WHO HE IS TODAY, ALL COMPLETELY DIFFERENT, AND ALL THE SAME. THE ONE THING THAT WAS ALWAYS A CONSTANT WAS POSITIVITY AND THE ART OF CREATION. LEARN MORE AT WWW.SEANHERMAN.COM